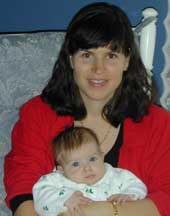 My name is Maria and I have been collecting dolls since 1996 -- ever since the ultrasound showed that my first child was a girl! Over the years I have come to admit that I am collecting for myself, not just for her and her little sister. I am a grown woman and I love dolls! Rather than analyze why that is, I have learned to just relax and enjoy my hobby. Imagine my relief when I found through the Internet that I am far from alone. On-line, I found several active and fun groups of doll collectors. You can learn how to join our conversations through the Message Boards page.
Just Magic is all about 18" vinyl play dolls in general. If you'd like to see my personal doll collection, including my doll house for 18" dolls, visit my other website: Maria's Doll House.

You can find out more about the dolls in the Meet the Dolls section. Here you will find a "Family Tree" that lists all the dolls, organized by type. Each of the dolls has, or will have, a profile page that gives basic information such as manufacturer, artist, size and so on. In addition, many of the dolls have detailed pages, some of which include complete "virtual catalogs" showing everything ever made for the doll line and checklists allowing you to track your own collection.
In the Articles section you will find articles on various topics including doll care, repair and customizing. You will also find information about past contests and events on Just Magic and other articles about general doll collecting.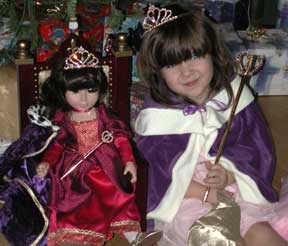 Many of us sew for our dolls or enjoy setting them up in scenes, sometimes with furniture and props. You can see pictures of our creations on the Pictures and Picture Stories page. You can email your pictures to me (or tell me where to find them if they are in an on-line album) through the links on the Contact the Webmaster page. This is also the place to go if you have any ideas, praise, or suggestions for the web site. I would love to hear from you!
Need some dolls or props for these pictures? Do the virtual catalogs make you itch to buy the real thing? We don't sell anything on this site but you can find great sources on the Links page.
I would like to send a special thank you to all of my friends who have contributed to Just Magic. It is hard to list everyone by name since I have not kept track of where I have learned each tidbit of information that is passed along in this website, but I sincerely appreciate all of the sharing and help that you have provided. Sharing with friends is the reason for Just Magic. How can you help? You can contribute pictures for the Pictures gallery, ideas for articles or complete articles, add a summary to the Meet the Dolls family tree and so on.
So, welcome to Just Magic and enjoy your stay!