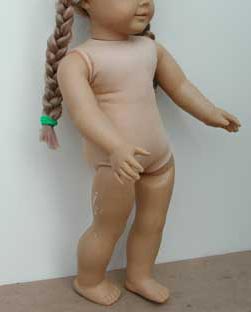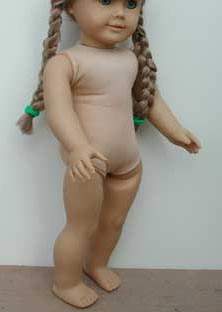 Have you ever rescued a grimy-looking doll from a second hand shop or yard sale, only to be amazed how beautiful she was under all that accumulated dirt? Grime doesn't photograph well (at web resolutions) but this Kirsten was dirty and had white scuff marks on her arms and legs, as seen in the picture to the left. After a thorough cleaning, her vinyl looked as good as new, as you can see in the picture to the right.

Dolls that get played with get dirty. The oils from your hands cause dirt and dust to stick. Fortunately, vinyl is one of the easiest materials to take care of and restore. Even dolls that are just displayed will need a good cleaning every once in a while. It is a good idea to strip the clothes off of a doll periodically even if it has just been standing on a shelf. This gives you a chance to check for damage such as dye from the clothes bleeding onto the body or marks from a doll stand.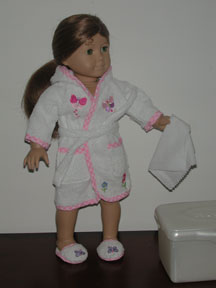 Baby wipes are a marvelous way to clean off light soil -- they're pre-moistened with a mild detergent and they are thin enough to get into places like little nostrils and between fingers. If you don't have any baby wipes handy, a damp, soft cloth works well. Use a little dish washing liquid, like Dawn, if needed. My favorite cloth for this is a thin, soft, cotton baby washcloth that I keep just for this purpose.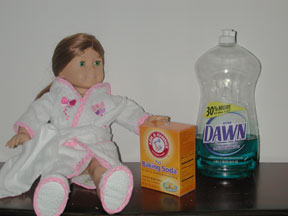 Use a soft-bristled toothbrush to get into crevices like mouths, ears and between fingers.
If the soiling is difficult to wipe off with just a cloth and mild soap, the next thing I reach for is baking soda. The mild abrasive texture will remove all but the toughest scuffs and stains. (The powder in the skin care kits sold by Pleasant Company is just baking soda.) Touch your damp cloth to the baking soda to pick a little up then just rub gently. Be careful around painted areas because even a mild abrasive can rub off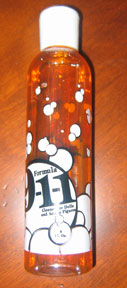 paint. Wipe the vinyl off with just water once you're done scrubbing with baking soda.
If your doll has any greasy or sticky spots, you might want to try a product called Formula 9-1-1 from Twin Pines. The folks at Twin Pines are knowledgeable about the chemistry of vinyl dolls and their products are made specifically for them. And they work. If you like fixing up old dolls and do it fairly often, it's worth investing in some Twin Pines products.
A Dolly's World also makes a "Doll and Wig Cleaner" which I have not tried.

Another choice for tough marks is a Buf-Puf. This is a round, white facial pad that you can find in any drug store, even drugstore.com (they cost around $4). These are gentle (they are meant to be used on skin, after all) but should remove even the most stubborn scuffs. Don't use them on painted areas and do not rub too hard anywhere or you may scratch or dull the vinyl. Do not use kitchen scrub pads; they are much too abrasive.
Finally, if you still have marks on the doll, try a Mr. Clean Magic Eraser. These pads have a cleaning chemical in them (which is why I use them only for stubborn marks) but they often work wonders. Magic marker, for instance, can often be taken off with a Magic Eraser after other methods fail.
These cleaning tips should help you remove just about any dirt and grime from the vinyl parts of the doll. Sometimes, however, a stain can penetrate into the vinyl. Ink from markers or pens, dye from clothes and mildew are the most common sources of stains. For this type of deep cleaning you need more than elbow grease, you need chemicals.
Did you get all the marks off your doll's vinyl?
| | |
| --- | --- |
| | Click the Yes button if you came here from the Doll Restoration Wizard and you want to go on to the next step. |
| | Click No to open the article "Vinyl Stain Removal". |