Notes
There is not much that I can add to the wonderful information that is already out there on the web about Pleasant Company and the American Girls dolls. But I tried! :) For those who collect the American Girls Collection, historical dolls, I have created a quick reference to the outfits:
The American Girls Collection Outfit Quick Reference
There are many websites devoted to American Girl. Here are some of the best:
Newsletter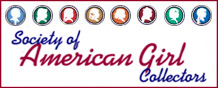 Ann Kirsten's Society of American Girl Collectors site has a newsletter and other fun things on her site.
Collector's Guides
These guides are like having a complete collection of past AG catalogs, but easily searchable and well-organized.
The Complete Guide to American Girl Doll Collecting, by Curt Danhauser. Another excellent reference that is professionally done, visually appealing and very easy to navigate. The Wish List generator is particularly fun and the information on retired items is very complete.

Johanna and Meg's American Girl Playthings website is for collectors of all things American Girl: Historicals, Just Like You Dolls, Bitty Baby, Angelina Ballerina, Coconut and the other smaller collections that American Girl has had over the years. There is also a message board which has excellent reviews of AG items and is very well organized!
There is an excellent buyer's guide on eBay called "Collectible American Girl Dolls: An Insider's Guide". It tells you how to date a doll, how to evaluate it's condition, etc.
Kim's "American History in Miniature" site has wonderful comparisons of "Pre-Mattel" vs. "Mattel" dolls, excellent pictures of her own doll collection, wonderful storage and display ideas and more.
Company History
American Girl has a a great section on their website about the company itself.
An even better "History of American Girl" is at the AG Playthings website.
Message Boards

The American Girl Fans Message Board is a very active group of young collectors who always know what's new and coming up from American Girl long before anyone else!
The American Girl Playthings Message Board is another excellent source of American Girl chat.
In addition to these message boards, you can also discuss American Girl dolls on AGBuddies2 at YahooGroups and several other YahooGroups you can find by searching.

More Links

The American Girl Doll Resources is a site with links to other American Girl-related websites.
More great links (for all dolls) can be found at the Doll Links blog. Search for "American Girl" to find the ones specifically for AG.