Notes
These dolls are widely available and they are often a little girl's first 18" doll. They are inexpensive and of correspondingly poor materials. However, the hair is not as bad as some of the other American Girl wannabe dolls. The vinyl is soft and the bodies are of low-quality cloth that is poorly finished off. They're sometimes stuffed with foam rubber instead of polyfil. Some of the dolls are made of soft, rubbery vinyl over a plastic skeleton so they can bend their arms and legs. These are usually the equestrian dolls so they can sit well on their horses.
The clothing is also of low-quality materials with decal-type detailing. The shoes are almost always rubbery plastic (or fabric for slippers). I undressed my cowgirl doll to take the comparison pictures below and I couldn't get the rubbery cowboy boots back on her. The dolls are smaller than American Girl though slightly larger than Magic Attic.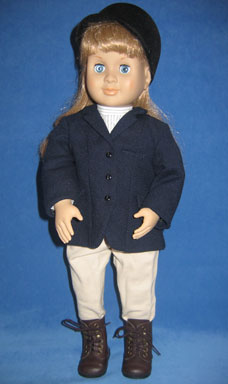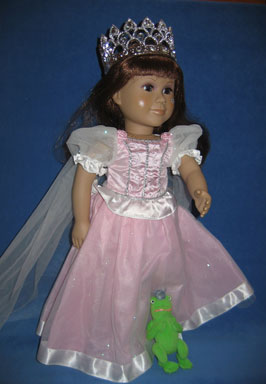 Some of the dolls are "deluxe" dolls such as this Frog Princess doll on the left. She has wigged hair and her princess gown is quite elaborate. She comes with a plastic crown and her little stuffed frog also has a crown. The unique thing about the princess doll is that she has glitter on her cheeks and a star-shaped rhinestone glued on like a beauty mark. She's also a bendable doll since you could buy a white horse with a long, long mane (and also applied sparkles) to go with her.
On the right is the doll from the comparison pictures wearing the American Girl Riding Outfit. She likes it much better than her cheap outfit but it is a little baggy on her, especially in the waist and bottom.
Whether you like (can stand?) their faces is purely a matter of taste. The most common face is the one on the left in these pictures. The doll on the right is an Ultimate Girls Club doll (distributed by ShopKo). The newest Our Generation dolls from Target also have new faces -- some even have little painted teeth so they look more like American Girl dolls.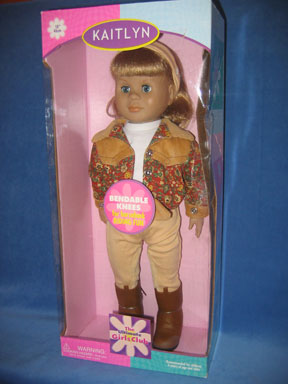 The dolls are packed in simple boxes and are very well attached with plastic coated wires and plastic. It will take a while to get the doll our of her box.
A neat thing is that the line used to include a boy doll, Jack.

(Click for a full-length picture of JeniferH's Jack in his original outfit.) There were a few extra boy outfits sold for him. There are certainly very few boy, 18" vinyl play dolls.
But the best thing about the Our Generation line isn't the dolls (which are decidedly unremarkable) but the accessories. These dolls have salon chairs, wonderful horses, scooters, Jeeps, great furniture, tents and sleeping bags, dogs, and recently even a bathtub. All of these accessories work wonderfully for other 18" dolls.
| | | |
| --- | --- | --- |
| | | |
So, a mixed review for the Battat dolls. Don't expect your little girl to want to save her as an heirloom, but for a few years of play and with all their wonderful accessories, they're good enough.