The Frequently Asked Questions page of the Gali Girls website has this summary:
"Q. What are Gali Girls?

A. Gali Girls are the first Jewish dolls of their kind. Gali Girls represent Jewish values such as modesty, kindness, respect, and charity, among others. Gali Girls are modestly dressed in trendy shirts and skirts to distinguish them from most other dolls on the market that are dressed to accentuate their bodies."
The Gali Girls are the brainchild of Aliza Stein, of New Jersey. "I was at the toy store with my kids (two boys), when I took a close look at the dolls in the doll aisle", Stein said in an interview. "What I saw was both fascinating and horrifying. Most of the dolls were Barbies and Bratz and they seemed to be more about taking clothes off than putting them on. Most had heavy make-up -- and then there were the boyfriend dolls on their motorcycles." Stein had been working as a professional recruiter for many years and was looking around for a business opportunity. "That got me thinking that there was probably room, and definitely a need for a doll that would be more about empowering girls and promoting positive values through doll play." Because her Jewish faith is important to her, Stein also wanted to create a doll that would help young girls connect with their Jewish heritage. "And maybe learn something about Jewish culture and communities in the past and in the parts of the world they may know little about."
The company has been selling dolls since November, 2004, but only recently came out with the first of a planned series of historical fiction books.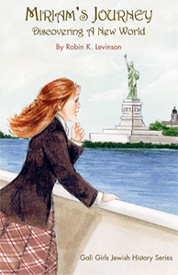 This first book, "Miriam's Journey: Discovering a New World", by Robin K. Levinson, follows 10-year-old Miriam Bloom and her mother and sisters as they journey to America to join their father who has already left Russia for America, fleeing persecution and looking for greater opportunity. Miriam and her story are based on Levinson's grandmother's real life story. You can purchase a limited edition Miriam doll -- a redhead who is dressed in the same outfit as Miriam in the cover illustration of the book. "Finding Robin Levinson was a dream come true", Stein said. "I can give her a vague idea and she immediately comes up with marvelous story outlines!" Stein is equally pleased with the book's illustrator, Drusilla Kehl, who Stein said managed to come up with beautiful drawing that matched the images she had in her mind's eye.
The second book, "Reyna and the Jade Star", is set in 1175 China and just came out in July, 2006. The Reyna doll is a departure from the previous dolls: she is a slim, all-vinyl doll manufactured for Gali Girls by Carpatina Dolls. Reyna is a gorgeous, high-quality doll that you can read about on the Meet Carpatina page.
Another book and doll, from 1662 America, is planned for the future.
The soft-body dolls themselves are decent quality, comparable to the ones you would find at Target or Wal*Mart. The same Lotus doll has been sold under different names by different companies, such as Lillian Vernon and Constructive Playthings. However, with the Gali Girls, you are buying more than just the doll, of course. The redhead doll has a wig that is exceptional quality and style and it really distinguishes her from her rooted-hair, Gali Girl sisters and from those being sold elsewhere.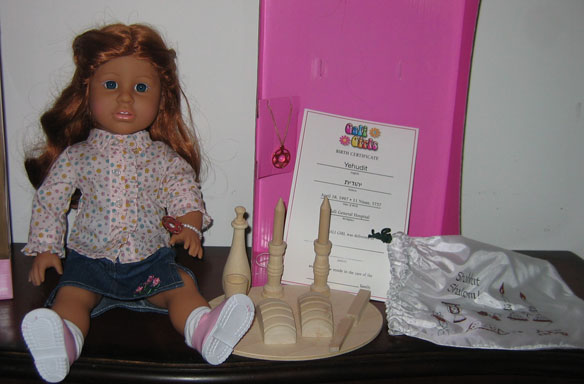 Her clothing is also cute and well made, though basic. The Shabbat kit that comes with the dolls is wonderful and justifies the extra cost of the doll (compared to similar quality dolls) by itself. It is sturdy wood and comes with candles, wine cup, wine decanter, knife, challah, and challah cover. It would be a fun project to paint the set with your daughter but it is nice even in its unfinished state. The doll also comes with Jewish star (Magen David) bracelets for the doll and girl and a birth certificate. The packaging is nice and there is no excessive use of fastening like with so many other play dolls these days.
If there are already American Girl dolls in your household, the soft-body Gali Girl will fit right in. Her waist is slimmer than AG, her shoulders are a little less broad and her feet are a little smaller, but most AG clothes will fit her fine. See below for comparison pictures of the two dolls' body types. [Thank you to Just Magic reader Ruthie for the comparison pictures of her Gali Girl, Gila, and American Girl Samantha.]