Notes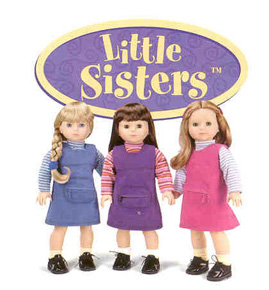 Götz (or Goetz) is a well-respected German doll company that has been making doll since 1950. Click here to read the Overview and History of the Götz Puppenmanufaktur. Götz created the Little Sisters dolls for Dolls Unlimited (a division of Kid Galaxy/iDolls.com) from 2000-2001. It seemed to be a secret at the time that Götz was the manufacturer, probably because they didn't want to disrupt their relationship with Pleasant Company (for whom they were making American Girl dolls.) The dolls were sold on-line at iDolls.com and other on-line doll stores, as well as through bricks-and-mortar doll stores. As you can see from the body comparisons above, Little Sisters and American Girl share the same body type which is not surprising since Götz created the American Girl doll for Pleasant Company and manufactured the dolls for them for many years. The three Little Sisters dolls all have the same face with its "Mona Lisa smile", though their eye color, hair color and hair styles vary. (For some reason, the dolls look more somber in pictures than the do in real life.) Their starter outfits are the same except for color and hair accessories. The dolls' quality is excellent, every bit as nice as an American Girl doll. The only difference between the two is that Little Sisters have a tendency to be more "pigeon-toed" than American Girl, probably because of differences in leg stringing.
Because the dolls are such close cousins to the American Girl dolls, they can share clothing perfectly. On the left is Tess wearing an American Girl Today outfit. The Little Sisters line was made up of more than just dolls. There was a complete line of clothing: casual, dress-up, bedtime and sporty. You can see the outfits in the Little Sisters Catalog Pages. These outfits were extremely well done and each outfit came complete with shoes and accessories. There were also other accessories like a doll trunk and doll stand.
Some of the outfits are still being produced by Carpatina Dolls as part of the Girlfriends Collection, along with others that are similar in style.
When iDolls.com went out of business in 2001, there was a massive going-out-of-business sale on the website, then the remaining Little Sisters dolls and clothing were sold off at the Götz factory store (that was in NY but is now closed) and later at discount chains like TJ Maxx and Tuesday Morning. At their deepest discount, the dolls were sold for $19.99. When sold at these outlets, the boxes were given a sticker identifying them as Götz dolls and sometimes the dolls had floral shirts rather than striped. Because they were such a fabulous bargain, many people picked up extras for resale so these dolls are fairly easy to find (currently for around $40) on eBay. The outfits are also fairly easy to find on the secondary market.
The same face mold was used by Götz in 2002-2003 for a new line of Götz play dolls called Precious Day. The easiest way to tell the difference between a Little Sisters doll and a Precious Day by looking at the hair -- Precious Day dolls have rooted hair. The 2004 and later Precious Day dolls by Götz have a different face.
If you are looking for a friend for your American Girl doll, the Little Sisters dolls are a wonderful choice. Their different face is a refreshing change from the ever-cheerful American Girls and the fact that they can share exactly the same wardrobe makes them even more appealing.