The Penney and Friends dolls were only made for the Holiday 2000 JC Penney catalog and were JC Penney exclusives. They were sculpted by Robert Tonner and produced by Robert Tonner Doll Company for JC Penney. (For more about Robert Tonner's background and history of his doll company, see the "About Tonner" section of his corporate website.)
These dolls are exceptionally good quality and make good friends for the Magic Attic Club dolls (which Tonner also sculpted). The major differences are that Penney has a slightly larger waist, Penney is 1" taller, Penney has a bellybutton and collarbones and she has flange-jointed legs which mean her legs have a more limited range of motion than MAC. You can see many of these differences in the pictures below which show Penney on the left and Magic Attic Megan on the right.
The "Penny" body has been re-used for several other play dolls since being sculpted for the Penney and Friends. These include Tonner's 18" Ann Estelle in 2001, 18" Collectibles (Betsy McCall face mold) in 2002 and Linda Rick's 18" Lovee by Doll Maker dolls in 2004. The picture below shows an example of each of these dolls.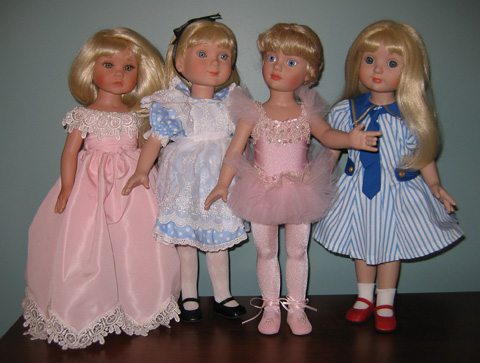 Linda Rick's Lovee Haley, Tonner's Alice, Penney's friend Carly and Tonner's 18" Ann Estelle (Boating Party)
Click either of the thumbnails below to see the catalog pages for these dolls from the 2000 JC Penney catalog.