Notes There is no doubt about it -- the Life of Faith dolls from Mission City Press are very high quality dolls. They have all vinyl bodies that are beautifully molded and painted. Unlike other all vinyl dolls, such as Magic Attic Club and Carpatina, which are much slimmer, these dolls can share clothing quite well with the popular American Girl dolls.
Life of Faith Millie Keith and American Girl Kit show you how the two doll lines' bodies compare
On the left you can see Millie Keith and Elsie Dinsmore. Elsie is wearing a dress (by Small Small World) that was designed for American Girl. As you can see, it fits her perfectly.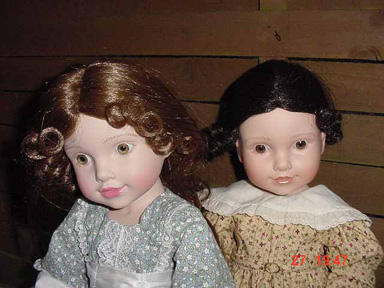 The Elsie Dinsmore doll was the brainchild of Christian homeschooling parents Lee Bereza and her husband Bill. They wanted a wholesome doll, based on the books by Martha Finley, for their daughter Sarah and for other young girls like her. The Elsie character is very pious, which explains why the dolls' arms are molded so that they can clasp their hands in prayer. It was a family business, Breezy Point Treasures, and the dolls were originally manufactured for them by the Lee Middleton doll company (of Ohio) starting in 1998. The picture above shows the two dolls sold by Breezy Point Treasures: Elsie Dinsmore and Mildred Keith.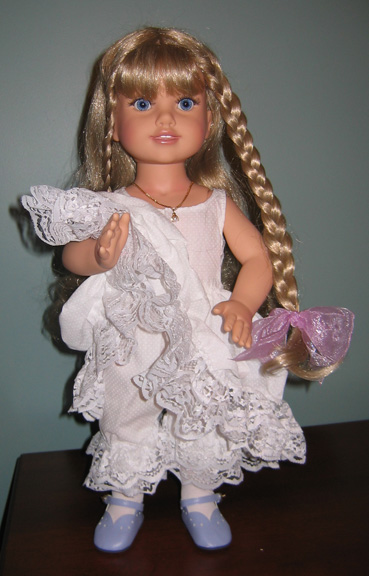 Mission City Press bought the doll line in 2003 and has greatly expanded the collection. The dolls are still made in America by RJG Toys, LLC of NJ. Elsie and Mildred (now called Millie) got makeovers; they are the same sculpt but their painting, costuming and hair was changed dramatically. Elsie got ringlets and Millie's hair went from black to blonde. The styling and costuming of the new dolls is done by doll maker Robin Woods and shows her frilly, exceedingly feminine style. All of the extensive line of clothing that is available for these dolls reflect the Southern Belle, antebellum fashions of the dolls' characters from the books. The clothing features lots of frills, trims and ruffles and layers and layers of underclothes. (Millie is showing you the underclothes that come with her starter outfit in the picture to the right.) It would be a pleasure to see a wider variety of clothing styles offered by the company in the future, perhaps even modern styles to go with a modern Christian girl character.
Two new dolls were introduced by Mission City Press: Violet (Elsie's daughter) and Laylie, a girl born into slavery. Laylie (shown above with her box) has a new, closed-mouth face mold. Mission City Press also started A Life of Faith Girls Clubs, which are both in-person and on-line.
If you are looking for a quality play doll with a Christian message, the Life of Faith dolls are for you. Even if you are turned off by the book series and would have preferred normal arms, the dolls, as dolls, are still exceptional. Priced at $99.99, they are not inexpensive, but quality has its price.