Just Pretend dolls are slim, all-vinyl play dolls that are very similar to the Magic Attic Club dolls. The three Just Pretend doll lines, Stardust Classics, Dream Doll Designer, and Friend to Friend, all share the same body mold. The picture below on the left shows the body type of a Just Pretend doll as compared to that of a Magic Attic Club doll. JP dolls have a slightly longer torso but they exchange clothes with MAC with no problem as you can see in the picture on the right. Their feet are also the same size as MAC (smaller than American Girl). Like Magic Attic dolls, Just Pretend dolls cannot share much clothing with American Girl dolls; they are considerably slimmer and have smaller feet.
| | |
| --- | --- |
| | |
| JP Natalie and MAC Alison | "Hey, you're wearing my clothes!" JP Allison wearing the MAC Members Only and MAC Rose wearing the JP Starter Outfit. |

The history of the company that produced these dolls is not long, but it is complicated. The dolls were first created when the company was known as Just Pretend, so they are marked by that name on their necks and that is why we refer to them collectively as Just Pretend dolls.
The founder of the company was Mike Collins, a former executive at The Pleasant Company (of American Girl fame) who left just before the purchase of that company by Mattel (of Barbie fame). In 1995, he founded a new venture in New Hampshire briefly called Childhood Companions, then Just Pretend. This company produced dress-up clothes, playsets like kitchen and doctor sets, and classic toys like wooden dollhouses -- "the very best in children's playthings for make-believe". The Stardust Classics doll and book sets were added to the catalog in 1997 with Alissa and Laurel. Kat was added to the line in 1998, the year Stardust Classics were featured as "Best New Toys for 1998" by Parents magazine. In 1999, the Dream Doll Designer line was added. Also in 1999, the

company expanded to include other products and a new (venture funded) parent company was formed called Kid Galaxy. Just Pretend became a division of Kid Galaxy. (Kid Territory was the other division of Kid Galaxy and it sold children's' furniture.)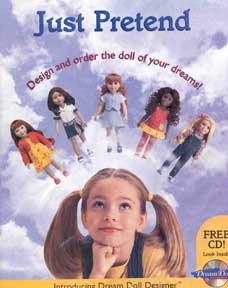 Late in 1999, iDolls.com was formed to be "The Ultimate Doll Store" and took over selling the the exclusive, Just Pretend dolls (Stardust Classics and Dream Doll Designer) and introduced the Friend to Friend Dolls. (As a "Launch Special" in early 2000, all the Dream Doll Designer dolls were offered at 75% off. This launched many doll collections and the JustPretendDolls YahooGroup as well.) In 2000, the Dolls Unlimited line was created which included Little Sisters and My Li'l Punkin. These were soft-body American Girl and Bitty Baby clones respectively. The dolls and their clothing were manufactured for them by Götz, the German doll maker that also originally manufactured the American Girl dolls. We do not classify Little Sisters as Just Pretend dolls because they only resold them, they didn't design or manufacture them.
iDolls.com was a huge on-line doll store that carried an extensive variety of other manufacturers' dolls, and it was a vibrant community with information and resources for doll collectors. They carried dolls of all types (often at hard-to-beat prices), clothes and accessories, but they also had newsletters, message boards and experts sharing their knowledge.
Death of a Dot Com
How many of us remember this site/sight with nostalgia?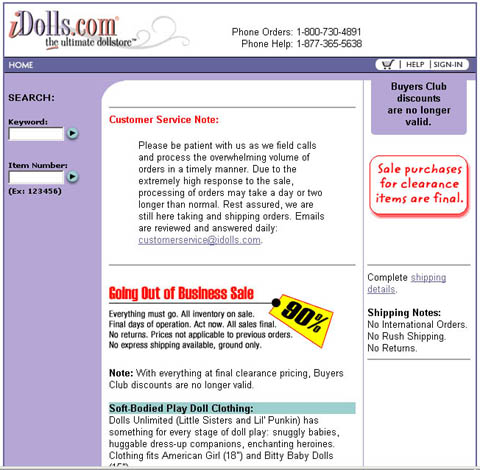 The demise of iDolls.com was exciting for those of us on the outside. In January 2001, the Going Out of Business Sale started with store-wide 50% off sales on everything (artist dolls, play dolls, collectible dolls, and so on) and progressed to 75%, then 80%, then 90% off. The site finally shut down in April, 2001. Many people snapped up loads of doll things at bargain prices and eBay is still replete with the extras. A PC Magazine article called "Bad Timing or Bad Idea?" ascribed the failure to "going after a questionable niche". But there was most certainly bad timing involved too; iDolls.com had lots of company from other dot coms as it went under. Kid Galaxy is still in business but now they make Bendos (funky little wire-form flexible action-figure guys), radio-controlled vehicles and other more modern toys.

Copyright © 2002-2005 Maria Greene All Rights Reserved
Home • About Just Magic • Meet the Dolls • Articles • Pictures and Stories • Message Boards • Links • Contact the Webmaster